✔ Up to 80 inches wide by any length
✔ Wide selection of materials available
✔ We print and install!
Materials Include:
• 8 mil Photo Base (Matte or Gloss)
• Acrylic
• Backlit Film
• Canvas
• Coroplast
• DiBond
• Dreamscape Wall Wrap
• Foam Core
• Gator Board
• Mesh & Vinyl Adhesive
• PhotoTex
• Poster Board
• Sintra Board
• Styrene
• Tyvek or Vinyl
• And many more!
We have recyclable alternatives to foam core!
Graphic Hardware Solutions
Check out our selection of hardware for signage and other displays! Browse hardware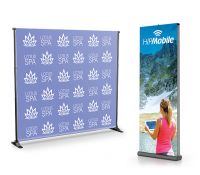 Need a project template?
We've got FREE templates for boxes, lawn signs, trade show banners, and more! Sign up today to access our Resource Library.